Adobe, Inc. (NASDAQ: ADBE) is a multinational software company that creates and sells various software products for graphic design, video editing, web development, photography, and cloud services. Founded in 1982, Adobe has a long history of innovation and is responsible for creating some of the most well-known software titles on the market. Some of these products include Adobe Photoshop, Adobe Illustrator, Adobe InDesign, and Adobe Acrobat DC.
The company's founders, John Warnock and Charles Geschke, originally developed the PostScript page description language while working at Xerox Corporation's Palo Alto Research Center (PARC). This technology would eventually form the basis for Adobe's first product, Adobe Illustrator, which the company released in 1987. The same year, Adobe went public on the Nasdaq Stock Market.
As of September 21, 2022, Adobe had a market capitalization of approximately $135.909 billion. The company's stock is often considered a bellwether for the tech industry. The more Adobe prospers, the healthier the tech industry is likely doing. However, Adobe is not without competition.
Given the vast size of the design and creativity software development market, Adobe's competitors are many and varied. Moreover, Adobe has so many different products and subsidiaries that there is likely at least one competitor for each software title. This Adobe competitors analysis will focus on some of the company's primary rivals, competitive landscape, target market, and how they stack up against Adobe.
Bottom Line Up Front
Adobe competes in a highly diversified software market. Many of the company's products are industry-leading, and its customer base is both loyal and large. Given the company's size and market position, it is not surprising that its competitors are also large and well-established. Among its top competitors are Autodesk, Microsoft, Corel Corporation, Oracle, and Google.
List of Adobe's Main Competitors
Adobe's Growth Strategy and Financials
After going public in 1987, Adobe enjoyed several years of strong growth. However, the late 1990s saw the rise of the internet and, with it, a new era of competition for Adobe. Faced with challenges from Microsoft and other software companies, Adobe changed its business strategy to focus on delivering software via subscription rather than as a one-time purchase.
Adobe's early success wasn't only because the company had great products. It was also because Adobe was setting standards for the software industry. As the company grew, it acquired other software companies and integrated their products into its Creative Suite. By doing so, Adobe increased the value of its offering to customers and solidified its position as a market leader.
Some of its acquired companies include Macromedia (2005) for $3.5 billion and Omniture (2009) for $1.8 billion. 
In October 2018, Adobe announced it was acquiring Marketo, a marketing automation software company, for $4.75 billion. The company's latest acquisition was in Feb 2022, when it acquired Figma, a collaborative web-based design platform, for $20 billion. Up until 2022, Adobe had 56 acquired companies.
Financially, Adobe's stock has been on a tear, nearly tripling in value since 2016. The company's strong financial performance reflects in its quarterly results. For the fiscal year 2021, Adobe posted revenue of $15.79 billion, up 23% from the previous year. Its net income came in at $4.822 billion, down 8.33% from 2020, while its operating cash flow increased from 5.308 billion in 2020 to $6.882 billion in 2021.
From its FY 2021 results, we can see that the Digital Media segment is Adobe's main growth driver. Revenue from this segment increased 25% year-over-year to $11.52 billion. The Digital Experience Segment, which includes Adobe's Marketing Cloud products, also grew 24% to $3.87 billion. 
Adobe Competitors Analysis
A study by Grand View Research forecasts the creative software market will reach $13.42 billion by 2028. If this estimate is accurate, it represents a compound annual growth rate (CAGR) of 6.8% from 2022 to 2028. That figure is enough to make any software company drool, but it's especially relevant to Adobe, given the company's dominant position in the market.
Adobe competes for market share with well-established companies and small startups with narrowly focused product offerings. Across the company's Digital Media, Digital Experience, and Publishing and Advertising segments, many competitors exist. Below is a snapshot of how some of Adobe's closest rivals stack up.
1. Autodesk
Autodesk, Inc. (Nasdaq: ADSK) is an American software company that develops design software for architects, engineers, construction firms, and media and entertainment companies. Founded in 1982, Autodesk first gained prominence for its AutoCAD software, the first PC-based CAD software. John Walker co-authored the program to create a cheaper, more accessible alternative to mainframe-based CAD programs. Today, Autodesk offers a comprehensive portfolio of 3D design, engineering, and entertainment software. 
The company went public in 1985, and as of September 22, 2022, it had a market capitalization of $41.536 billion. In its fiscal year, 2021, which ended on January 31, 2021, Autodesk posted revenue of $3.79 billion, up 16% from the previous year. Its net income came in at $1.208 billion, representing a whopping 463% increase from 2020. The increase in revenue resulted from a 26% increase in subscription revenue, partially offset by a 53% decline in maintenance revenue.
Adobe and Autodesk's tussle for supremacy is in the digital media and entertainment markets. The two software giants offer competing solutions for 3D animation, visual effects, and video editing. However, Adobe has an advantage in its end-to-end Creative Cloud solution, which includes graphic design, web development, and photography products. On the other hand, Autodesk's focus is on computer-aided design (CAD) and 3D modeling for manufacturing, engineering, and construction.
Picture a Venn diagram with two overlapping circles. In the center is where the two companies' offerings overlap the most. That's the digital media and entertainment market. While Autodesk has a foothold in this segment, Adobe is the clear leader. Moreover, Adobe has better financials, with faster revenue and earnings growth.
Still, it's important to note that the two companies are not direct competitors in every market. For example, while both Autodesk and Adobe offer graphic design software, Autodesk's product, Graphic, is aimed at industrial designers. In contrast, Adobe's Creative Cloud is geared towards creative professionals such as graphic designers, web designers, and photographers.
2. Microsoft
Microsoft Corporation (Nasdaq: MSFT) is an American multinational technology company that develops, manufactures, licenses, and supports a wide range of products and services in the computing industry. Microsoft's best-known products include the Windows operating system, the Office suite of productivity software, Xbox gaming consoles, and the Azure cloud computing platform. Bill gates and Paul Allen founded Microsoft in 1975 as a software development company.
As of September 22, 2022, Microsoft had a market capitalization of $1.782 trillion. In its fiscal year 2021, the company reported $198.27 billion in revenue, up 17.96% from the previous year. Its net income for that period was $61.271 billion, a 38.37% increase from 2020. Even though Microsoft's revenue growth rate is slightly lower than Adobe's, its net income growth rate is significantly higher. Still, Microsoft has better overall financials, with a much higher market capitalization and a more extensive revenue base.
While Microsoft is a behemoth in the tech industry, it doesn't have the same dominance in the digital media and entertainment markets as Adobe. Regarding 3D animation, visual effects, and video editing software, Autodesk is a stronger competitor to Adobe than Microsoft. However, Adobe and Microsoft go head to head in the enterprise cloud and publishing markets.
Adobe offers its Adobe Marketing Cloud, which is a suite of enterprise cloud services, while Microsoft provides Azure, its enterprise cloud platform. Adobe's InDesign is the industry-leading software in the publishing market, while Microsoft's Publisher is a more entry-level product. Microsoft allows integration between its products and some of Adobe's products, which gives it an advantage in the enterprise market.
3. Corel Corporation
Corel Corporation is a Canadian software company that develops and markets graphics, word processing, and digital media products. Its best-known products include the CorelDRAW Graphics Suite, WordPerfect Office, CorelCAD, AfterShot, and PaintShop Pro. Founded in 2011, Corel has its headquarters in Ottawa, Ontario.
Adobe and Corel compete in several areas, including graphic design, digital imaging, and PDF software. For instance, Adobe's Photoshop is the market leader in photo editing software, while Corel's PaintShop Pro is a more budget-friendly option. Adobe's Creative Cloud suite offers a comprehensive set of tools in the graphic design software market, while CorelDRAW is a less expensive and more targeted solution.
When it comes to PDF software, Adobe's Acrobat is the clear leader, with over 90% market share. Corel's PDF Fusion is a more affordable option that offers some of the same features as Acrobat. However, it doesn't have as many features and isn't as widely accepted by businesses.
Corel Corporation isn't an independent company like it used to be. KKR, a venture capital firm, acquired the company in 2019 from Vector Capital, another private equity firm. As a result, Corel is now a subsidiary of KKR. It doesn't publicly disclose its financials, but the last time it was private (2016), the company reported $298 million in revenue. At some point, the company traded publicly but was taken private again in 2007.
While the changes in ownership make Corel Corporation seem unstable, we can't discount its products. The company hasn't been around for as long as Adobe or Microsoft, but it's still a significant player in the software market.
4. Oracle
Oracle Corporation is an American multinational computer technology corporation headquartered in Redwood Shores, California. The company specializes in developing and marketing database software and technology, cloud-engineered systems, and enterprise software products—particularly its brands of database management systems. Larry Ellison, Ed Oates, and Bob Miller founded Oracle Corporation in 1977 with $2,000 of their own money. The company went public two years later, in 1981.
Adobe and Oracle compete in the enterprise software market. Oracle's database products are some of the most popular in the world, and the company offers a suite of enterprise software products, including human capital management (HCM), customer relationship management (CRM), and enterprise resource planning (ERP) software.
Businesses can use Adobe's Experience Cloud or Oracle's CX Marketing Cloud to manage their customer experience. Oracle's Eloqua is a popular marketing automation tool, while Adobe's Marketo is a more comprehensive solution. In the enterprise content management (ECM) market, Adobe's Document Services and Oracle's WebCenter Content are both used to store, manage, and deliver digital content. Adobe's AEM Forms is a popular forms management solution, while Oracle's Forms is a more comprehensive enterprise solution.
While Adobe and Oracle offer robust enterprise software solutions, Oracle has an advantage in market share. The company holds the largest market share in the database management system (DBMS) market and is one of the top three enterprise resource planning (ERP) vendors. Although Adobe doesn't have the same level of market share, its products are used by some of the world's largest companies, including Coca-Cola, Nike, and Samsung.
In FY 2021, Oracle had total revenues of $40.479 billion, an increase of 3.61% from the previous year. The company's net income was $13.746 billion, and its operating income was $15.213 billion. Competitively, Oracle has better financials than Adobe. Moreover, as of September 22, 2022, its market capitalization was $179.935 billion, higher than Adobe's $133.687 billion. 
5. Google
The fact that Google even made this list may come as a surprise to some people. But let's not forget that the company started as a software company and still develops and sells software products. In fact, the company's primary source of revenue is advertising, but its Google Cloud Platform (GCP) is a close second. It also offers analytics, productivity, and collaboration software products.
Google's main competitors in the cloud market are Amazon Web Services (AWS) and Microsoft Azure. In the enterprise productivity market, its main competitor is Microsoft Office 365. And in the enterprise collaboration market, its main competitor is Slack. However, Google also competes with Adobe in critical markets, like analytics, marketing, and web development.
Adobe Analytics and Google Analytics are industry-leading solutions for website and app analytics. Adobe Marketing Cloud and Google Analytics 360 are both comprehensive marketing platforms. And Adobe Experience Manager (AEM) and Google Cloud Platform (GCP) are both popular web development platforms.
So, while Google may not be a direct competitor in all of Adobe's key markets, it is a significant player in several of them. Adobe's main competitive advantage over Google is its focus on creative professionals. Adobe designs its products specifically for its target market, while Google's products target a broader audience.
Besides the core software products that Google offers, the company also has a robust ecosystem of hardware, artificial intelligence (AI), and cloud services. These features give it a significant competitive advantage over Adobe, which doesn't have comparable hardware or cloud offerings.
Adobe's SWOT Analysis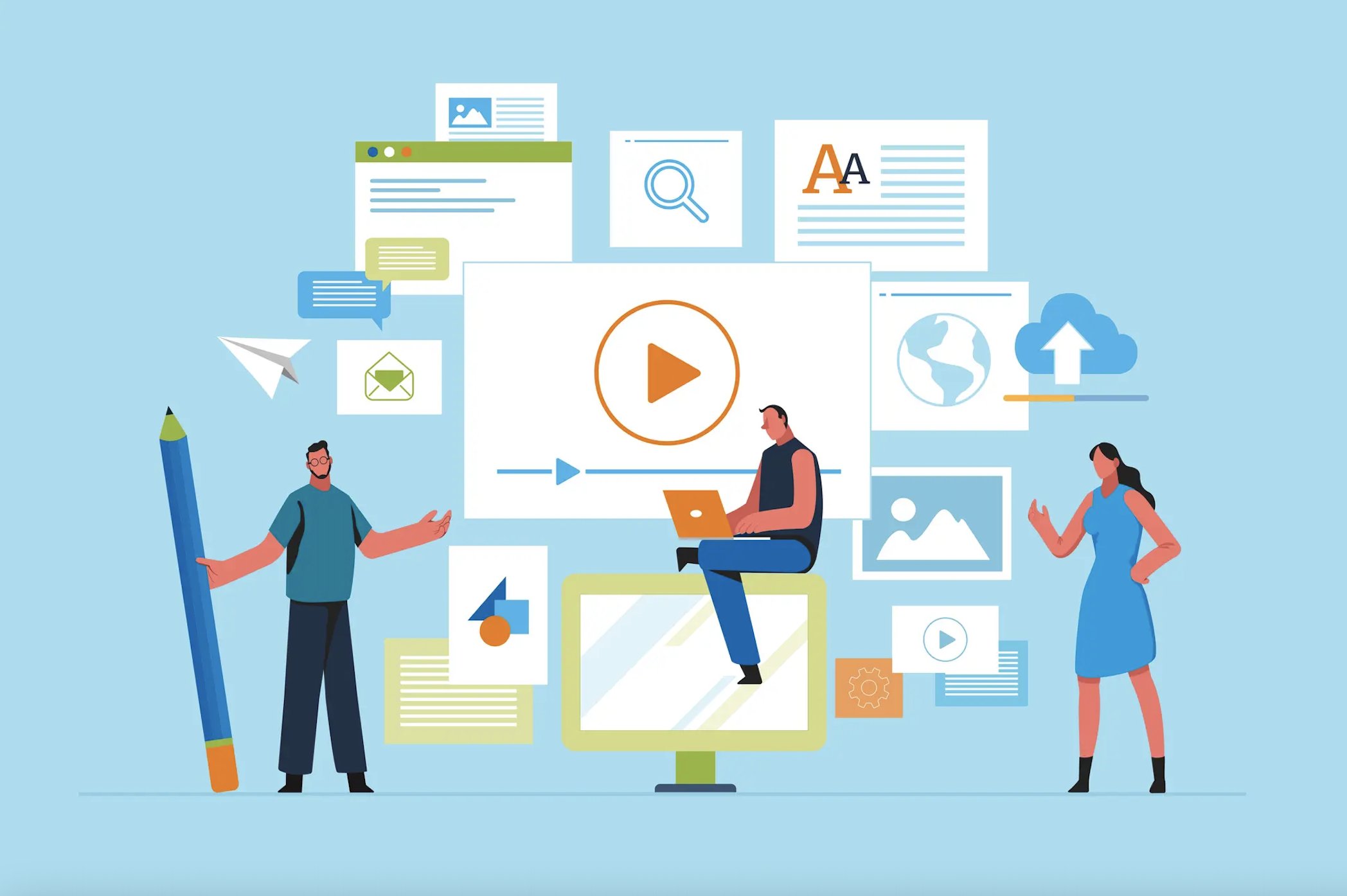 Below is a sneak peek of Adobe's strengths, weaknesses, opportunities, and threats (SWOT): 
Strengths
Robust product portfolio

Strong brand recognition

Diversified customer base

Strong financial performance

Industry-leading products
Weaknesses
Limited geographic presence

Reliance on third-party distributors

High debt levels

Expensive products 
Opportunities
Growing demand for cloud-based solutions

Expanding e-commerce market

Partnership with Microsoft
Threats
Intense competition

Piracy

Fluctuations in currency exchange rates
Adobe Competitors Analysis (FAQS)
Question: Does Adobe have a competitive advantage?
Answer: Adobe has several competitive advantages. For one, Adobe Creative Cloud is a complete end-to-end solution that offers users everything they need to create, manage, and publish their content. Also, Adobe's marketing and sales tools are industry-leading, and its customer service is top-notch. Finally, Adobe has a loyal customer base that is unlikely to switch to another platform.
Question: Does Adobe have a monopoly on PDF?
Answer: Adobe isn't the only company that offers PDF software, but it does have the most popular and well-known PDF products. Adobe Acrobat Reader is the industry standard for viewing and printing PDFs, while Adobe Acrobat Pro is a powerful PDF creation and editing tool. There are also many other PDF software programs on the market, but Adobe's products are generally considered the best.
Question: Is Adobe a metaverse stock?
Answer: Adobe is making advances in the Metaverse, but it is not yet a Metaverse stock. Recently it sophisticated Adobe analytics with additions to support Metaverse analytics. The company has also been a leader in developing 3D PDF technology. In the future, Adobe may become a significant player in the Metaverse, but for now, it is not yet a stock to buy for that purpose.
Conclusion
Adobe is a well-rounded company with several Suite offerings that cater to various creative professionals. The company has a strong product portfolio, brand recognition, financial performance, and customer base. However, it does have some weaknesses, such as its reliance on third-party distributors and high debt levels. Adobe also has several opportunities for growth, such as the expanding e-commerce market and partnership with Microsoft.
While Adobe faces intense competition, it remains a market leader in many of its core product offerings. If you're considering alternatives to Adobe products, check out the competition from companies like Autodesk, Microsoft, Corel Corporation, Oracle, and Google. Each has its strengths and weaknesses, so choose the right software for your needs.
Recommended Reads:
Latest posts by John Hughes
(see all)